Are you having issues with visual voicemail on your iPhone 15 Pro? One of the commonly reported problems is that your voicemails and/or your voicemail transcripts are not showing up. Or sometimes it may seem that your voicemails have suddenly vanished. Sometimes Live voicemail doesn't work on iPhone 15 Pro. Sometimes you may see your voicemails but they won't play. Sometimes, you may experience that voicemail stops working on iPhone 15 Pro for no apparent reason following an iOS update. Here are some things you can try if voicemail is not working on your iPhone 15 Pro.
QUICK ANSWER
If voicemail is not working on your iPhone 15 Pro, try enabling and reenabling the voicemail feature. Check for updates and/or restart your phone. If minor fixes like these don't work, it may be a deeper technical issue requiring investigation from your phone carrier or Apple.
The Visual Voicemail feature on your iPhone 15 Pro allows you to see all your voicemails, so you can choose which ones to listen to and which to share or delete — all without needing to call a number first. Depending on your location, you may also be able to read transcripts of your voicemail messages with the iPhone's voicemail-to-text feature. And with Live Voicemail feature in iOS 17, you can see real-time transcriptions on your iPhone 15 Pro screen as someone leaves a voicemail. This article explains how you can troubleshoot iPhone 15 Pro voicemail problems.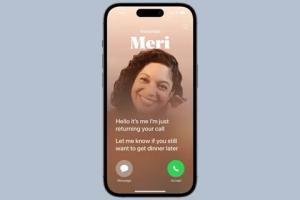 Please note that you can use the visual voicemail feature on iPhone 15 Pro if your carrier supports this, in the USA, most carriers, if not all, support this.
Note: information in this article apply to iPhone 15, iPhone 15 Plus, iPhone 15 Pro and iPhone 15 Pro Max.
---
What to do if your iPhone 15 Pro voicemail is not working
Work your way through this list of solutions to get your iPhone 15 Pro voicemail back up and running:
Check to see if voicemail is activated on your iPhone
This sounds obvious — and it is — but you should make sure that your voicemail is set up on your iPhone 15 Pro. If you recently changed carriers (or even plans at the same carrier), you might need to do an initial voicemail configuration. There's an easy way to check if voicemail is set up on your iPhone 15 Pro. Here's how:
Go to **Settings.
Tap Phone**.
Scroll down. If you see the option Change Voicemail Password, then voicemail is on.
If you don't see it, then voicemail is off, and you need to enable it. Here's how:
Open the Phone app.
Tap Voicemail at the bottom.
Tap Set Up. Follow the instructions to create a voicemail password and choose or record a greeting.
Turn on Live Voicemail
live voicemail allows iPhone users to read transcripts of voicemails being left in real time. When you get a voicemail, you can see what the caller is saying in real time. As you're reading along — before the call ends — you can pick up and be connected with the caller.
On iPhone 15 Pro, Live Voicemail is on by default. If live voicemail is not working on your iPhone 15 Pro, it's possible the feature was disabled by an accident. To check if live voicemail is enabled on your iPhone 15 Pro, follow the steps below:
Open the Settings app.
Tap Phone.
Tap Live Voicemail.
Turn on Live Voicemail.
Restart the Phone app
You may be having voicemail problem on your iPhone 15 Pro because the Phone app may not be working as expected. You may try restarting to the phone app to see if this helps:
Go to your Home screen, swipe up from the bottom of the screen. This will reveal the app switcher.
Swipe left or right until you find the Phone app, then swipe it up to close it.
Now exit to the main screen and reopen the Phone app and test to see if you can see your voicemails.
Toggle mobile data off and on again
Is your iPhone 15 Pro voicemail still not working? Then, the next step is to see if there is an error with your mobile data plan. Visual VoiceMails require a strong cellular connection to work effectively. You can check this easily. Turn off Wi-Fi on your iPhone (Settings > Wi-Fi) and call someone. If the call works, your cellular connection is working.
You may also try the following troubleshooting tips:
Go to Settings > Cellular > and turn off Cellular Data. Wait for one minute. And then turn it on.
If your iPhone 15 Pro has a physical SIM card, remove your SIM card, and place it again. You need to open the SIM tray. To do that insert a paper clip into the tray hole. Gently pus the paper clip toward the phone. This will open the SIM tray. While you have the SIM card out of the tray, give it a thorough examination to ensure it isn't damaged. If it has any scratches, scuffs, or if the gold side has been cut too far with a knife (which is easy to do if you are making a larger SIM card into a micro-SIM), then that will obviously cause the SIM card to malfunction. In this situation, you will have to buy a new SIM card from the phone carrier. See this article if cellular data is still not working on iPhone 15 Pro.
Update your iPhone
If VoiceMail is still not working on your iPhone 15 Pro, make sure that your phone is running the latest version of iOS. Here's how to update your iPhone:
Go to Settings.
Select General.
Choose Software Update.
You can also turn on automatic updates by turning on Automatic Updates (Settings > General > Software Update > Automatic Updates).
Check for Carrier settings update
If updating your phone does not fix iPhone 15 Pro voicemail problems, go ahead and check to see if there is a carrier settings update. As the name implies, these are settings from your phone carrier that enables you to use their service efficiently. In various parts of the world, including Europe, it will be called Networkinstead. This may fix your problem as voicemails are under the control of the carriers. In other words, your carrier manages your voicemails. This update may fix the carrier-related problems you may be having including voicemail issues. Here is how you can update your carrier settings:
Ensure that your iPhone 15 Pro is connected to a working Wi-Fi or cellular network.
On your iPhone, head over to Settings > General > About. A popup will appear if there is an update available, tap Update and then follow the onscreen instructions.
Toggle Airplane Mode
On your iPhone, turn on Airplane Mode, wait for about a minute and turn it off. Airplane Mode will disable all of your device's wireless functions. Turning on and off may fix your iPhone 15 Pro voicemail problem. If this does not work, also try this in the following order:
Turn on Airplane Mode.
Restart your phone (see the next section about how you can restart your phone).
Then when your phone is on, turn off Airplane Mode now.
Restart your iPhone
Now, try restarting your iPhone. Yes, that old restarting cliche again, but it's better to try it and rule it out. Your voicemail may need a small kick in the right direction, and quite often, a device restart is all it takes to flush the gremlins out.
Press and hold the side (on the side of your iPhone) and the volume down or up buttons together until you see the red slider.
Drag the slider from left to right to shut down your iPhone.
Wait for about a minute and then press and hold the side button until the Apple logo appears.
Check that call forwarding is off
If voicemail is still rolling over and playing dead, the next troubleshooting step you can try is seeing if call forwarding is off. If it's on, then calls are being redirected to another number and not getting a chance to make it to voicemail. It would also explain why your phone is not even ringing in the first place. Here's how:
Open Settings.
Select Phone.
Scroll down to the Calls section and tap Call Forwarding.
On the next screen, if the toggle is set to green, then call forwarding is on. Toggle it off, so the green turns grey.
Voicemail transcripts not working
If your iPhone 15 Pro voicemail transcripts are not working, or if you are getting an error message like "Transcription not Available". Siri may be the cause. Follow the steps below:
Go to Settings > Siri & Search.
Tap to turn off Listen for "Siri" or "Hey Siri".
Turn off Press Side Button for Siri.
Restart your phone.
And now turn on these Siri settings by going to Settings > Siri & Search.
Reset network settings
If voicemail is still not working on your iPhone 15 Pro, reset your Network Settings. Please note that doing so will erase all of your network settings including your Wi-Fi passwords etc. You may want to contact your carrier (the next step) before this step if you prefer.
Go to Settings.
Select General.
Tap Transfer or Reset iPhone.
Choose Reset.
Tap Reset Network Settings.
Contact your carrier
As we've already mentioned, your carrier controls voicemails. There may be a problem with the wireless carrier preventing voicemail from working on your iPhone 15 Pro,. Thus contacting them may be a good idea. The list below is some of the major carriers and how you contact them:
Voicemail still not working on iPhone 15 Pro? Contact Apple Support
If all else fails, and even your phone carrier doesn't know what's happening, the last thing to do is contact Apple Support. Maybe there is an issue with the voicemail software on your phone? Maybe the latest iOS update has done a number on your voicemail (see what I did there?)
It can't hurt to fire off a quick message to them and make sure the problem isn't at the Apple end. You can even contact them through the Apple Support iOS app.
---
FAQs
How do I delete voicemails from my inbox?
To delete voicemails from your voicemail inbox, open the Phone app, then select Voicemail. Tap Edit, select the voicemails you want to delete, then hit Delete.
Is voicemail on iPhone available worldwide?
No, according to Apple, Voicemail, Visual Voicemail, and Voicemail transcription features are only available on some carriers in a select number of regions.
Can I download voicemail on iPhone?
Yes. To download a voicemail message to your iPhone, open the Phone app, select Voicemail, select your desired message, tap the Share icon, then select Save to Files.