Several users have said that their iPhone 15 Pro get hot during use or when charging the battery. An iPhone 15 Pro getting too hot can be a serious problem, a likely sign of a software or hardware defect. In this article, we focus on the most common reasons why your iPhone 15 Pro may get warm or hot and explain what you can do to stop your iPhone from overheating.
Overheating can become a big problem, especially if it happens consistently.
You don't want your phone to overheat, because it can slow your phone down or cause it to stop working altogether. It can result in permanent damage, and then you may have to replace your battery or even get a brand-new phone. And that requires spending money — even with insurance.
That's why you want to take all the measures you can to prevent your iPhone 15 Pro from overheating. You can't stop all instances of overheating, but there are many things you can do. Here's what you need to know.
Why iPhone 15 Pro gets hot
Ming-Chi Kuo previously said that the problem of overheating probably stems from the "compromises" made by Apple in the thermal system design to achieve a lightweight build. These compromises, as per Kuo's analysis, involve a "reduced heat dissipation area" and the introduction of a new titanium frame, resulting in diminished thermal efficiency.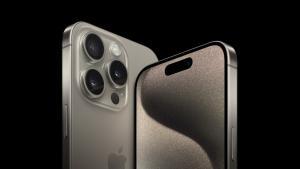 However, Apple said the new phones' titanium frame isn't contributing to the issue, and that it dissipate heat better than the stainless steel used in prior Pro models.
Apple's support page notes that the iPhone may feel warm when you first set it up, restore it from a backup, or wirelessly charge it.
Here are other causes:
Streaming for long periods of time. This means that your iPhone 15 Pro has to load your content and keep the screen working. This will force your phone to work harder and create more heat.
Gaming. Resource-intensive video games with high-end graphics may cause your iPhone 15 Pro to heat up.
You may notice your iPhone 15 Pro gets warm when you are downloading a lot of apps simultaneously while you are using your phone.
Your iPhone 15 Pro may get warm when you are charging the battery.
If you have an iPhone 15 Pro or Pro Max and are experiencing overheating, there are a few troubleshooting tips you can try until Apple releases the iOS 17 update.
How to fix iPhone 15 Pro overheating issue
Update your iPhone
The likely solution to iPhone 15 Pro overheating problem will come in the form of a software patch. So, make sure you are running the latest version of iOS. Go to Settings >** General** > Software Updateto ensure that you have the latest iOS version as soon as a new version is available.
Turn off low power mode
If an update is not available, turn on Low Power Mode from the Control Center or in the Battery section of the Settings app. This will kill any background tasks, temporarily limit the display's refresh rate to 60Hz and reduce the brightness.
Remove the case
Some people have noticed the iPhone 15 Pro and Pro Max getting uncomfortably hot while it charges. If your iPhone is in a case, take it out before plugging it in. If, after removing the case, the iPhone doesn't heat up while charging, try to use a different case.
Close apps when not using them
Reducing the workload on the processor can prevent it from generating excessive heat and depleting the battery rapidly. Therefore, it is a good idea to close all apps when you are not using them.
Swipe up from the bottom of the screen. This will open the app switcher.
Swipe up on all of the apps.
Restart your iPhone 15 Pro
you may notice that we advised you to close all running apps before restarting your iPhone. You may find this odd. This is because if you were to restart the phone first, your device would simply restart all the running apps when it turns back on. Therefore, we recommend closing the apps first and then restarting. Go to Settings > General > Shut Down.
Ensure that your iPhone has enough storage to function properly
Go to **Settings **> General > iPhone Storageand check your current storage stage.
Force restart your iPhone
Follow these steps:
Press and release the Volume Up button.
Press and release the Volume Down button.
Press and hold the Side button until you see the Apple logo. If you see the power-off slider, ignore it.
Don't use graphics- or processor-intensive apps
Resource-intensive tasks like video games with high-end graphics can cause your iPhone 15 Pro to overheat. Stop using your iPhone for heavy processing tasks like playing high-end games, streaming, using graphics-intensive applications, or recording videos for an extended period.
Update all your apps
A bug in the app can cause iPhone 15 Pro overheating issues, so always stay up-to-date with your apps.
To update apps: Open the App Store and then go to Today > Your Profile > Update All.
Did the iPhone 15 Pro overheating problem start recently? Delete any apps you downloaded shortly before the problem started.
Steer clear of third-party chargers
Most times you'll be fine, but a cheaply designed charger could cause your iPhone 15 Pro to overheat.
Use the right charger to charge your device's battery. Make sure you use the original accessories. If it is a third party charger or cable, make sure it's Apple certified.
Contact Apple
Your iPhone may have a faulty battery that is causing this issue. Contact Apple to learn your options. Since iPhone 15 Pro was just released, your device is still under warranty.