If your iPhone 15 isn't downloading apps from the App Store, this article will help you fix the problem.
Note: information in this article apply to iPhone 15, iPhone 15 Plus, iPhone 15 Pro and iPhone 15 Pro Max.
KEY TAKEAWAYS
To fix an iPhone 15 that won't download apps, first ensure the phone is connected to the internet, pause and restart the download, and double check that you have a valid credit card associated with your Apple ID.
If all else fails, restart the iPhone and try the troubleshooting steps a second time.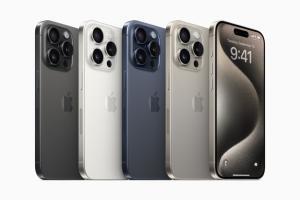 When you want to download apps on your iPhone 15, you're likely to be successful 99.9% of the time. However, nothing is perfect, so occasionally, you may encounter a tech hiccup on the App Store, which means you can't download apps on your iPhone 15.
When you experience this problem, you may see the icon of the app you are trying to download on the home screen in a different darker color and says "waiting…"
There are many reasons for the problem, it is highly likely that, if you are having this issue, you are having a connection problem. But the good news is that it is usually easy to fix.
How to Fix an iPhone 15 That Won't Download Apps
There are several ways to fix an iPhone 15 that fails or stalls while attempting to download apps. If apps on your device won't download, please try the solutions below. Make sure to check your iPhone 15 after each step to see if App Store downloads start working.
Make sure you are connected to the internet
-First, let's make sure that your iPhone 15 is connected to the Internet. You can easily check this by opening the Safari app and trying to load iphonearena.com. Does our web site load? If not, you may be having a connection problem. Try the following tips:
Turn on Airplane mode, wait a few seconds and turn off Airplane mode by going to Settings > Airplane Mode.
If you are downloading over Wi-Fi, restart your router by disconnecting it from its power source then wait about a minute and reconnect.
Reset your Network Settings by going to Settings > General > Transfer or Reset iPhone > Reset > Reset Network Settings. Note that this will erase your network settings such as your Wi-Fi passwords etc.
Make sure the app is available in your country or region
This is probably one of, if not the most, frustrating error messages on the iPhone. You find an app that looks really cool, you want to try it out, and bang — you get told that the app isn't available in your country or region.
Basically, this comes down to the app developer deciding, for reasons of their own, not to release the app in certain parts of the world. As I said, it's frustrating, but there's nothing much you can do in this scenario. You could try contacting the developer and see if you can persuade them to change their policy. Failing that, you need to move on and find an alternative app. Or move to another part of the world. But that option is a bit overkill just for an app.
Update iOS
You may be unable to download apps on your iPhone 15 because of a bug in the software. And an update may include your fix.
Tap Settings
Tap General
Tap Software Update.
Restart the App Store app
The next troubleshooting tip is to restart App Store. This too has the effect of unblocking any stalled app installation or update. Here is how you can do that:
Swipe up from the bottom of your screen. This will open the App Switcher.
Locate the App Store app preview and swipe up on it to close it.
Now when you reopen the App Store, it will reopen from scratch. It will also restart any app downloads or updates that may have got stuck when you lost your connection to the store.
Sign out and then sign in
If the above fixes don't resolve the issue, you may want to sign out of the App Store. Once you sign out, sign back in, which may solve the problem. Here is how you can do this:
Launch the App Store app.
Tap your profile icon (located at the top right of your screen).
Scroll to the bottom and tap Sign Out.
Now sign in.
Check the Apple ID you're using
If you have a problem updating an app on your iPhone 15, the problem could be the Apple ID you're using. When you download an app, it's tied to the Apple ID you're logged into then. If you change the Apple ID you're using, apps tied to the old ID can't update. Sign in to other Apple IDs you've used, following the instructions in the above step.
Pause and restart the app download
This tip works when the app download stalls. If an app icon appears on your home screen, but the download has slowed or stalled, tap the icon for the app you're attempting to install. This pauses the download. Wait a short time and then tap it again to resume the download.
Make sure that your iPhone's date and time settings are set correctly
Incorrect date and time settings may block your iPhone 15 from downloading apps. To fix this:
Go to Settings
Tap General
Tap Date & Time.
Check if the date and time is set for your timezone. You may also want to turn on Set Automatically.
If your time settings are correct, and turning on Set Automatically does not fix the issue, try this: turn off Set Automatically and change your settings to a future date and time and try again. If you get the error message, turn on Set Automatically.
Disable VPN
This is what fixed my issue. I had already installed a few VPN (virtual private network) apps. One of them was Opera VPN. I simply turned this app on and then I successfully downloaded the app. If you are using a VPN, turn off VPN and try again.
Go to Settings > General > VPN & Device Management.
If VPN says Connected, turn it off.
Use Google DNS
You may try changing your iPhone's DNS (domain name system) servers. Here is how:
Go to Settings.
Tap Wi-Fi.
Find your Wi-Fi connection, then tap the (i) button.
Tap the DNS field.
Delete the current numbers there and enter the new Google DNS numbers: 8.8.8.8.
Tap Wi-Fi to go back. The changes you made will be saved.
Restart your iPhone
Many tech problems can be solved by turning the device off and on again. The iPhone 15 is no different. If an app cannot be downloaded, or it is partially downloaded, then stuck, restarting the phone is quite often the push it needs to finish the job.
Press and hold the side and the volume up (or down) buttons together until you see the power off slider.
Move the slider from left to right to shut down your iPhone.
Wait about a minute. And then press and hold the side button until the Apple logo appears.
Force restart
Often, force restarting your phone can resolve unexpected issues, and this is no exception. Here's what to do:
Press and quickly release the volume up button.
Press and quickly release the volume down button.
Press and hold the side button until you see the Apple logo.
After your iPhone restarts, check to see if it can download the apps. If not, try to pause and restart the download a second time.
Check if App Store is Down
Another important point is that it is rare, but it is also possible that the iPhone 15 won't download apps because the App Store service is down. You can check the status of the App Store service by going to the Apple System Status site. The App Store is the very first entry. Green means it's up, and red means it's down.
Check your payment method
It doesn't matter if you're trying to install a free or paid app — Apple requires you to have a payment method associated with your Apple ID.
To check the status of your payment method, follow the steps below:
Open the Settings app and tap on your Apple ID at the top of the screen.
Tap "Payment & Shipping" and make sure your payment method is valid and up to date.
Try a different Internet connection
If you are still unable to download apps on your iPhone 15, go to another place and try downloading using a different Wi-Fi connection (e.g., school lab, library or your friend). If you are able to download apps using a different Wi-Fi, you may want to talk to your internet provider. They may be able to fix the problem you are experiencing.
Conclusion
These solutions will likely fix your problem. As I stated above, this issue  typically points to an Internet connectivity problem. This connection problem is preventing your iPhone 15 from reaching the Apple servers. Following the steps above will help you resolve this.