Here are some simple, yet effective, troubleshooting steps to fix your iPhone 15 Pro if the alarm isn't going off.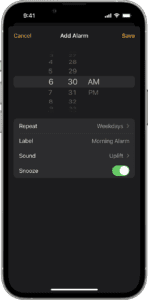 Note: information in this article apply to iPhone 15, iPhone 15 Plus, iPhone 15 Pro and iPhone 15 Pro Max.
On your iPhone 15 Pro, you can set, cancel, or snooze alarms in the Clock app. Siri also can set alarms for you. Several users have reported that, sometimes, the iPhone 15 Pro alarm is not working as expected. More specifically, the reported problems include:
the alarm does not go off or is silent, or the sound is too quiet.
the alarm will not set
the alarm will not repeat
This article takes you through the steps to troubleshoot when the iPhone 15 Pro alarm is not working properly.
After trying each step, see if you fixed the issue.
1. Delete and re-add
For whatever reason, your iPhone 15 Pro might not have created the alarm correctly. Maybe it worked for a while but then stopped because of a glitch or incompatibility issue after an iOS update. Try deleting the alarm that is not working and readd it. Here's how:
Open the Clock app, tap Alarm tab and then select Edit (top-left corner). Tap the red minus (-) sign to remove. You can also swipe left on an alarm on the Alarm tab screen to delete it. Make new iPhone alarms with the plus ( ) button on the upper right-hand corner of the app.
2. Update your iPhone
Make sure that your iPhone is running the latest version of iOS. If not, update your iPhone to the latest version of iOS. Here's how:
Go to **Settings **> General > Software Update.
3. Reboot your iPhone
Restarting is a common practice with technology to fix minor problems, and you can do the same with your device to see if it fixes your iPhone 15 Pro alarm not working.
To restart your iPhone, hold down the Side button and the volume-down button until you see the power slider. Drag the slider from left to light to shut down your iPhone. Now press the side button until you see the Apple logo on the screen.
4. Increase the volume
If your problem is the iPhone 15 Pro Alarm is too quiet then check your device volume level. There are two ways to change this:
Press the volume up button. Or, alternatively, on your iPhone, go to Settings > Sounds & Haptics and turn up the volume by dragging the slider (under the Ringtone And Alerts section). Also, here is the Change with Buttons option, which you should disable to make sure the ringer and alarm volume never changes when you change the system volume with the buttons.
To test the alarm sound volume without waiting for the alarm to go off, open **Clock **> Alarm, tap Edit, and select an alarm. Go to Sound and pick a ringtone from the list; if it's loud and clear, it should work fine when the alarm goes off.
5. Check your alarm settings
Perhaps your iPhone 15 Pro alarm did not go off at designated time because of a small mistake. For instance, if your alarm is supposed to go off every day at 12:15 PM, and it worked yesterday but not today, the alarm is most likely not set up to repeat.
Open the Alarm app, tap the Edit button in the Alarm section, and then tap the alarm you need to edit. Go into the Repeat settings and make sure there's a checkmark next to the days of the week for when you want the alarm to go off. Just tap a day to turn the alarm on or off for that day.
If your alarm goes off at the wrong time during the day, you most likely confused AM and PM, which is surprisingly easy. Edit the alarm and change it to the appropriate time of day, and tap Save when you're done.
Tap Sound and make sure the alarm sound is set correctly. The default ringtone for the alarms is Radial. Set this to Radial (or something loud) and check if it is working. Do not set alarm sound to None.
6. Disconnect Headphones and speakers
Do you have wired or wireless (Bluetooth) headphones or speakers connected to your iPhone 15 Pro? If so, the alarm might be going through the connected devices. If your problem is that you do not hear the alarm sound, then you may want to disconnect these connected devices.
Turn off Bluetooth by going to Settings > Bluetooth. If the alarm works after doing that, then be fully aware of when your alarms will go off, and make sure that your audio accessories are not connected to your phone during those times.
7. Set to ringtones, not to music/songs or videos
If your alarm sound is set to songs, try changing it to a loud ringtone to see if that fixes your problem. Here's how:
Open the Clock app, and then tap the **Alarm **tab, tap Edit, and choose the alarm you want to change the sound for. Tap on Sound and preview the ringtones to find a louder alarm sound.
8. Make sure time and date settings are correct
If your iPhone 15 Pro alarm is still not working, go to Settings > General > Date & Time. make sure that Date & Time settings are correct. If not, this may affect your alarms. You may want to turn on the "Set Automatically" option.
9. Close all apps
If an app has crashed in the background, it may prevent iPhone 15 Pro alarm from working properly. To fix this, simply force close all apps that are running in the background. Here is how:
Go to the Home screen
Swipe up from the bottom of your screen to bring up the app switcher.
Swipe up on all of the apps to close them.
Now test to see if your alarm is working.
10. Reset location and privacy
You may want reset Location & Privacy on your phone. To do that, go to Settings > General > Transfer or Reset iPhone > Reset > Reset Location & Privacy.
If you are still having issues, you may want to contact Apple, and make a Genius Bar reservation. You can also make Apple aware of this problem.