Some users have reported that their iPhone 15 Pro and iPhone 15 Pro Max doesn't ring when receiving a call. If your iPhone 15 Pro isn't ringing when you're receiving a call, you can miss out on an all-important phone call. Here's a look at the reasons why your iPhone 15 Pro might not be ringing and how to fix the problem.
Note: information in this article apply to iPhone 15, iPhone 15 Plus, iPhone 15 Pro and iPhone 15 Pro Max.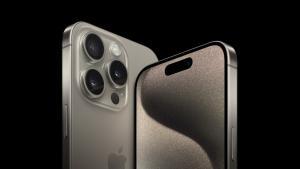 Why Is My iPhone 15 Pro Not Ringing When I Get a Phone Call?
If your iPhone 15 Pro no longer rings when you receive a FaceTime or a regular phone call, it can be very frustrating. Here's a look at the key reasons why this might be happening.
Focus or Airplane Mode is switched on.
The speaker is broken.
Silence Mode is turned on.
You blocked the phone number.
You silenced all unknown callers.
There's a problem with a ringtone.
Your phone is stuck in headphone mode.
How to fix iPhone 15 Pro not ringing issue
If your iPhone 15 Pro doesn't ring when someone calls you, there are some fairly simple fixes that usually correct the matter. Here's what to check and do.
Make sure that you haven't accidentally silenced the phone
If your iPhone is vibrating but not ringing when you get a call, make sure you haven't silenced your phone and forgotten to turn the ringer back on.
To check whether your ‌iPhone 15 Pro‌ or iPhone 15 Pro Max is in silent mode, short press the Action Button. A "Silent" icon will appear in the ‌Dynamic Island‌ to show the status. You should also see a bell icon right next to the time at the top of your Home Screen when silent mode is on.
If your iPhone 15 Pro is in silent Mode, Long press the Action Button to unmute your device. You should feel a single haptic pulse and see a "Ring" icon appear in the ‌Dynamic Island‌.
Clean the iPhone speaker
Every sound your iPhone makes—playing music, watching movies, or the ringer from incoming calls—comes from the speaker at the bottom of the device. If your iPhone 15 Pro won't ring during incoming calls, the speaker may be dirty or broken.
Test the speaker by playing music or a video. Turn up the volume. If you can hear audio, but the volume is too low, or the sound is distorted, clean the speaker.
If you hear no sound, even with the volume turned all the way up, the iPhone speakers may be damaged.
See also: How to fix iPhone 15 Pro no sound during phone calls issue
Check that the focus mode isn't enabled
All incoming calls, messages, and notifications are automatically silenced when Focus mode is activated. Swipe down from the top right of the screen to open the Control Center and tap the focus icon to turn it off if it's enabled.
Alternatively, go to Settings > Focus > Do Not Disturb > OFF.
Disconnect bluetooth devices
If you connected your iPhone 15 Pro to a Bluetooth device, it could be a software glitch where the phone still thinks the devices are connected. Open the Control Center, disable Bluetooth, and check if the issue goes away. You can enable Bluetooth again after.
Increase the the ringer volume
Go to Settings > Sounds and haptics. Make sure that the Sound volume is set to maximum and make sure that the Change With Buttons option is set to off.
Check blocked numbers
Are you having this problem with all calls or some calls? If your iPhone 15 Pro does not ring for all callers, It is possible that you may have blocked their phone numbers. If a number is blocked, you will not receive a call from this number. You can check that easily. Here is how:
On your iPhone, tap Settings and go to Phone
Scroll down and tap Blocked Contacts
Here you can see all blocked numbers. Review them.
Turn off call forwarding
Do you use Call Forwarding? Turn this off and try again. Here is how you can do that:
On your iPhone, tap Settings > Phone
Tap Call Forwarding
And set this off
Turn off Silence Unknown Callers
To help users avoid spam calls and robocalls, Apple added a feature in iOS 13 that automatically silences all calls from unknown numbers. If this feature is turned on, you won't hear calls from numbers that aren't in the Contacts app. Instead, the iPhone sends them right to voicemail. Here's how to disable this feature:
Go to Settings > Phone and check if **Silence unknown callers **is on. If it is, toggle it off to disable this feature.
Update your carrier settings
Sometimes carriers (Verizon, ATT&T, T-Mobile etc) release updates regarding cellular connections. Check to see if there is an update. Here is how:
On your phone, go to Settings > General > About
If there is an update, a popup will appear. Follow the instructions.
Check for iOS Updates
If you iPhone 15 Pro is still not ringing when receiving calls, go ahead and update iOS. Apple may have fixed related bugs. Here's how:
Go to Settings > General > Software Update.
Restart iPhone
If your iPhone 15 Pro isn't ringing due to a temporary software glitch, a simple reboot may clear it up. Here's how:
Press and hold both the side button and either volume button until the slider appears on the screen.
Drag the slider from left to right.
Press the Side button to turn on your iPhone.
Change your custom ringtone
If your iPhone 15 Pro still doesn't ring for incoming calls, check your ringtone. If you set up unique ringtones for contacts, a deleted or corrupted ringtone can prevent the phone from ringing when someone calls.
To check the default ringtone, go to Settings > Sounds & Haptics > Ringtone, and then select a new ringtone.
Make sure the phone isn't stuck in Headphone mode
It could be that your iPhone is ringing but sending the audio to the wrong place. In this situation, the iPhone thinks that another audio source is attached to it—like headphones or a Bluetooth device—and tries to ring there instead of through your iPhone speaker.
Here are a few things you can try to "wake up" your iPhone's audio connection so it's working properly:
Plug earbuds into your phone and remove them again to coax the phone into recognizing there are no earbuds plugged in.
Make sure you're not connected to another audio device. Swipe down from the top right corner of the screen to display the Control Center. Tap the Airplay icon in the music pane (you'll either see a triangle with three circles or an icon that resembles earbuds) and if anything other than the iPhone is selected, choose the iPhone.
Enable and disable Airplane Mode by tapping the airplane icon in the Control Center.
Reset Network Settings
If your iPhone 15 Pro is still not ringing, you can also try resetting the network settings (this will reset Wi-Fi settings). Here's how:
Go to Settings > General > Transfer or reset iPhone > Reset and tap on Reset network settings.
Contact Apple Support
If the above suggestions have failed to solve the problem for you, you may want to contact Apple Support for more help.