The Apple Watch Series 9 is easy to use out of the box, but mastering a few tricks can make a big difference. With this list of the best Apple Watch Series 9 tips and tricks, you'll find great new ways to make use of your watch.
The Apple Watch Series 9 is the best smartwatch yet thanks to significant performance upgrades and the addition of a handy new double-tap gesture.
In this article, we've compiled a list of the best Apple Watch Series 9 tips and tricks that will help you get the most out of your new watch.
Let's get started.
Best Apple Watch Series 9 tips and tricks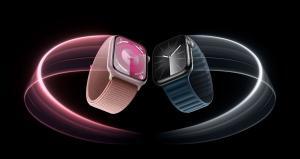 Master the new Apple Watch double tap gesture
First on our list of Apple Watch Series 9 tips and tricks is the Double Tap gesture. The Double Tap feature lets you interact with your watch without ever needing to use the touchscreen. With a quick pinching motion, you can use it to scroll through the new smart stack of widgets in watchOS 10, pause or end timers, skip music tracks, and answer phone calls. It's the sort of feature that you might read about and scoff at — until you're unloading groceries from your car, hands full, and an important call comes through on your watch.
Double Tap's functionality is pretty simple. You raise your watch to wake, and then you double tap your thumb and index finger together to control what's happening on the screen of your watch.
By default, Double Tap selects the primary button in whatever app you're in. So for example, if you get a call, you can double tap to answer, and use it to hang up when you're done. Likewise, if you're watching/listening to media, you can pause it and resume it (or skip).
Some other use cases: If you've set a timer, double-tapping will pause it. Performing the gesture again will resume the countdown, and when the timer goes off, a double-tap will stop it. Similarly, you can use it to do other everyday things like snooze alarms, trigger the Camera Remote app's shutter button, and dismiss notifications.
Customize your widgets
Apple introduced widgets in WatchOS 10, which are modules that show tidbits such as the amount of time left on your current timer, the weather and news headlines.
Widgets make it easier to see information at a glance without having to jump between apps, but they're only useful if they're showing the pieces of data you're actually interested in seeing. To edit and customize widgets on your Apple Watch Series 9, start by swiping up from the clock face to access your widget stack.
Then, press and hold down on the Apple Watch's screen to enter edit mode, similar to the way you would edit apps the iPhone's home screen. You'll notice an empty widget with a plus sign now sits at the top of the stack. Tapping that widget will bring you to a selection of widgets to choose from that can be added to your stack. You can also tap the red minus symbol next to an existing widget to remove it when in edit mode.
Set Multiple Timers
Like iPhones running iOS 17, you can set multiple concurrent timers on Apple Watch and label each one to distinguish them easily.
Launch the Timer app, create and start a timer, then tap the
button
in the upper right corner to return to the Timers screen, where you can create and start another timer.
With multiple timers counting down, you can use the Digital Crown to switch between timer displays, or alternatively you can keep track of them in the timer list. To assign a label such as "cupcakes" to a timer, use Siri. Raise your Apple Watch, then say something like "Set a 12 minute cupcakes timer."
Make it easier to find your apps
The honeycomb app grid looks great at first glance, but it can be difficult to find the app you want to launch, particularly if you have a lot of apps installed on your watch. Instead of in a grid, you can use an Apple Watch Series 9 tip to display all of your apps in an alphabetical list.
Either in the Watch app on your phone or in the Settings app on the Watch, tap App View > List View. Now, when you press the Digital Crown to leave your watch face, you'll see a list of apps that you can quickly scroll through and find what you're looking for.
Access the App Switcher
In previous versions of watchOS, you could access the Dock by pressing the Side button, but in ‌watchOS 10‌ this action has been reassigned to the Control Center.
You can, in fact, still access the Dock (now called the App Switcher) with a double press of the Digital Crown.
Quickly double-pressing the Digitial Crown, you can open the new app switcher. Similar to iOS, this will show all of your current apps with the most recent in front. Apps that are currently running a session — a Maps navigation session or a Workout session, for example — appear at the front.
Scroll through with a flick or by rotating the Digital Crown. To go back to an app, tap it and it will move to the foreground.
When an app is acting up, you can "force close" it. Simply turn the Digital Crown to the app you want to remove, swipe left on the app, then tap X.
Rearrange the Control Center
Just like Control Center on your iPhone, Control Center on the Apple Watch is where you go to quickly adjust settings like do not disturb and airplane mode and to activate the flashlight.
You may find the default list of options in the Control Center isn't the best fit for how you use your watch, however, and you want to rearrange the list. For me, that means moving the Bedtime toggle from near the bottom of the list to the top. That way when I want to track my sleep over the weekend when I don't have sleep goals set, I can swipe up and tap the icon.
You can launch the Control Center by pressing the side button on your Apple Watch Series 9. To change the order or hide some buttons in the Control Center, tap the **Edit **button at the bottom of the list. The icons will begin to jiggle and show a red minus sign to hide an option. Drag and drop the icons into your preferred order, or tap the red minus button to remove the option altogether.
When you're finished, tap Done or press the Digital Crown on the side of your watch to go back to the watch face.
Turn your Apple Watch into a Flashlight
Turning on the flashlight and alert light on your Apple Watch Series 9 is a cool idea and gives sufficient light at night to do things like illuminate a keyhole or navigate your way around the bedside clock and such, all without causing discomfort to your eyes.
There are three flashlight modes on an Apple Watch Series9:
White light: This is your standard all-white flashlight for those times when you need to light a darkened door lock or illuminate objects in the dark.
Flashing white light: This mode is a safety feature for when you're out for an evening run or bicycle ride, but it shouldn't be viewed as a substitute for proper ANSI Class 3 outerwear with a real running light.
Steady red light: Useful for night reading, when assisting someone in an emergency situation, getting people's attention by waving the red light around at night, or simply lighting nearby objects while preserving your night vision.
Here's how to turn on the flashlight and alert light on Apple Watch Series 9:
Press the Side button on your Apple Watch to open the Control Center.
Tap the flashlight icon, and it will turn into a bright white torch.
Rotate the Digital Crown to increase or decrease the screen brightness. You can also tap the screen to enable full brightness.
From this screen, swipe left to activate the flashing white light and swipe left once again to turn your watch screen into a solid red flashlight.
To turn off the flashlight, swipe down from the top of the screen or press the Digital Crown or Side button.
Unlock your Apple Watch with your iPhone
Typing in your passcode to unlock your watch can be a pain, but there's a cool Apple Watch Series 9 trick to do it. You can choose to have your watch unlock automatically when your iPhone is unlocked.
Tap the Digital Crown and navigate to the Apple Watch's Settings menu. Scroll down to Passcode, and make sure the switch next to Unlock with iPhone is toggled on. Your iPhone will now also display an alert saying that your iPhone is being used to unlock your Apple Watch whenever you put this into practice.
Like in ‌iOS 17‌, you can now let others know where you are by sharing your location in Messages, and it will be updated in real time right in the conversation.
Start a new message or open a conversation, tap the A button, then tap the Share Location button. You can then choose to show your live location (Share), which updates in real time, or share your static location (tap the pin icon, then tap Send Pin).
If you share your live location, you can do so For One Hour, Until End of Day, or Indefinitely. To stop sharing your location, simply tap the shared location, then tap Stop Sharing.
Make text easier to read by increasing the font size
Reading notifications and news headlines can be difficult on a screen that's so small. Luckily, there's a hidden Apple Watch Series 9 trick that lets you increase the font size to make things a bit easier on your eyes. To do so, launch the Settingsapp on your watch, tap Display & Brightness and scroll down to Text Size. Rotate the Digital Crown or tap the letters that appear on either side of the meter to adjust the text size on your watch.
Start a Group FaceTime Call
With ‌this Apple Watch Series 9 trick‌, you can start group FaceTime audio calls right on your watch. Here's how:
Open the Phone app on your Apple Watch.
Start a ‌FaceTime‌ audio call,.
Tap the ellipsis button and tap Add People to choose a contact.
When someone joins the call, tap 2 People Active, tap the button, then choose another contact.
Stop those annoying reminders to breathe
The Breathe reminder is designed to help you take a few minutes to clear your mind and control your respiration, potentially helping you feel more centered and calm. But if you're like me and never follow the prompt, use this Apple Watch Series 9 trick to turn it off so you no longer have to be reminded to breathe.
Open the Apple Watch app on your iPhone, then scroll down and tap the Mindfulnessapp option. Next, select** Notifications off**.
Log Your State of Mind
Using the Mindfulness app on Apple Watch Series 9, you can log your mood at different times throughout the day and input an overall mood for the day.
Open the Mindfulness app on your Apple Watch and navigate to the State of Mind section, then tap either "Log how you're feeling right now," or "Log how you've felt overall today."
Once you select an emotion or mood to track, you can log how you're feeling by dragging a slider left and right–from very pleasant to very unpleasant and a spectrum of choices in between. As you move the slider, the shape and color displayed changes to align with the selected feeling.
After picking a feeling, you'll be given a few word choices to further describe what you selected. For example, if you're feeling neutral, you may see words like "content," "calm," or "peaceful."
From there, you'll be asked to select the items that are having the biggest impact on you that day. Options include "family," "work," "money," and "dating." If you want to type in more context information you can do that here as well.
After you've logged your state of mind, you can check it against other lifestyle factors in the Health app on your ‌iPhone‌, under Mental Wellbeing -> State of Mind.
Silence those noisy notifications
Smartwatches can be useful for discreetly checking an alert or the time. But loud notifications can defeat the purpose. Thankfully, there's a cool Apple Watch Series 9 trick to turn on silent mode on your watch. Simply press the side button to launch the Control Center. Then tap the icon that looks like a bell to trigger Silent Mode.
You can also do this by opening the Apple Watch's Settings menu, scrolling down to Sound & Haptics and toggling the switch next to Silent Mode. There's also a volume slider for adjusting how loud or quiet incoming notifications sound if you'd rather not mute them completely.
Record Video
With ‌Apple Watch Series 9,‌ you can use the Camera Remote app to record video from your ‌iPhone‌.
To record videos, go to your Apple Watch and open the Camera Remote app. Adjust your iPhone to take the perfect video, and then touch and hold the Shutter button on your Apple Watch to start recording.
Once you're done, release the Shutter button, and your iPhone will save the video.
Choose the Portrait mode photos you want to see on your wrist
Using this Apple Watch Series 9trick, you can set Portrait mode photos as the background for your watch face. But first, you have to dig into the settings in the Watch app on your iPhone. To get started, launch the Watch app and navigate to the Face Gallery tab at the bottom of the screen. Then, scroll down until you see the Portraits option. Tap the **Choose Photos **option under Content to select up to 24 photos that will rotate automatically when you raise your wrist or tap the screen.
Plan Home Energy Usage
In the Home app on Apple Watch, Apple has added a new "Grid Forecast" section like the one found on ‌iPhone‌ in ‌iOS 17‌. The feature is designed to use your location to tell you when "clean" energy is available to use, so you can be mindful of when you're using energy.
Open the Home app, then tap the Energy category to show the Grid Forecast. Green bars in the widget indicate when cleaner energy is available in your area. If there are no bars, cleaner energy isn't forecast for the near future.
If you're traveling, Grid Forecast shows energy information for both your home location, and the location of your paired ‌iPhone‌. Note that Grid Forecast is available only in the contiguous United States.
Keep the Apple Watch's screen awake for a longer period of time
There are times when you might not want your Apple Watch's screen to go idle right away. Perhaps you were in the middle of reading a long text message and got distracted, or maybe you want to keep an eye on your timer. Once you tap the Apple Watch's screen, it typically stays active for 15 seconds. But you can extend that to 70 seconds by using a simple Apple Watch Series 9 trick. Simply launch the Settings menu on your watch, tap Display & Brightnessand choose Wake Duration. Then select the Wake for 70 Seconds option.
Type to Speak
Using the Live Speech accessibility feature, you can enter text on your Apple Watch Series 9 using its on-screen keyboard and have it speak those words and sentences so that the person around you can hear what you typed. It also works when you're on a phone or FaceTime audio call on your watch.
Here's how to set up Live Speech on Apple Watch Series 9:
Open the Settings app on your Apple Watch Series 9.
Tap Accessibility.
Scroll to the bottom and tap Live Speech.
Turn on Live Speech.
Now, triple-click the Digital Crown to activate Live Speech.
Enter the text you want to convert to speech and tap Send.
Your Apple Watch will speak what you just typed through its speaker so you can have an in-person conversation even if you can't speak. And if you're on a phone call or FaceTime audio call and then triple-press the Digital Crown to activate and use Live Speech, then the person on the other side of the call will hear what you typed.
Stop every app from automatically installing
Every time you install an app on your iPhone, it will automatically install its Apple Watch counterpart if there is one. This can clutter up your watch's app grid pretty quickly, making it hard to find the apps you do want to use on your watch. Thankfully, there is an Apple Watch series 9 trick to stop this behavior.
In the Watch app on your phone, go to Settings > General and then slide the switch next to Automatic App Install to the Off position. You can also do this on the watch by opening the **Settings **menu, tapping App Store and toggling the switch next to Automatic Downloads.
From now on, you'll install individual apps on your watch by opening the Watch app on your phone, then scrolling to the bottom where you'll find a list of available apps.
Change Your Email Signature
By default, any email you send from your Apple Watch will say "Sent from my Apple Watch". To change your signature, follow the steps below:
Open the Watch app on your ‌iPhone‌.
Tap My Watch.
Tap Mail.
Tap Custom.
Tap Signature, then create your new signature.
Use NameDrop
NameDrop is one of the marquee features of iOS 17, but it's also in watchOS 10. This feature lets you share files, photos, and contact information between two iPhones, an iPhone and an Apple Watch, or even directly between two Apple Watches.
To use this feature, open the Contacts app on your watch, select My Card, tap the Share icon, then place your watch face-to-face with another Apple Watch.
‌watchOS 10‌ introduces an option to share news stories in Apple News from your Apple Watch.
Open the News app on your watch, scroll to a story, then tap it. Scroll down, tap the Share button, then choose a sharing option.
See also: How to spot a fake Apple Watch Series 9 from the real one
Ping Your Apple Watch
For some time now, it's been possible to ping your misplaced ‌iPhone‌ with your Apple Watch. In ‌iOS 17‌, you can now do the reverse and ping your Apple Watch with your ‌iPhone‌ if you forgot where you put it down.
Apple doesn't include the new Ping My Watch button in the default Control Center set, but you can add it manually: Go to Settings -> Control Center, then under "More Controls," tap the button next to Ping My Watch.