From checking serial numbers to packaging, there's more than one way to know if your AirPods Max are real
QUICK ANSWER
To spot fake AirPods Max, verify their serial number in Apple's coverage checking tool. If they show up there, they are genuine.
AirPods Max are Apple's most premium headphones. They are made of aluminum and steel, run on the H1 processor, and have Apple ecosystem-specific features.
The AirPods Max command a premium price, making them attractive to counterfeiters, and unless you buy the products direct from Apple or a reputable retailer, there's a chance that you'll end up with a fake product.
Just like it's easy to identify fake AirPods Pro 2, you can easily tell if your AirPods Max are genuine or not.
Check The Packaging
Apple has pretty high production standards, and fake AirPod manufacturers rarely meet them. Genuine AirPods Max boxes' fit is tight, the quality of the printing high, the standard of grammar perfect. Apple's quality control for its products is exacting, so if you spot a typo, don't buy. If the documentation doesn't look shiny-perfect the way Apple likes printing in high-resolution on heavy paper, don't buy.
Inside the box, you get:
AirPods Max headphones
Smart Case
Lightning to USB-C cable.
Apple doesn't include the power adapter in the box. Apple also doesn't include a cable for wired listening with the AirPods Max.
If you find a charging brick or a 3.5mm to Lightning cable inside the box, the AirPods Max are fake.
Check The Build Quality
Apple is famous for the very high quality of its devices. The canopy, the cushion, and the case legit give you the best fit with the most comfortable experience.

The canopy on the headband is made from breathable mesh to distribute the weight and reduce the On-Head pressure.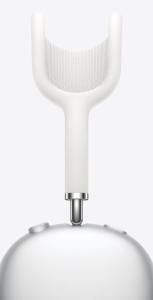 The steel frame is wrapped with soft-to-touch material to ensure the right flexibility, comfort, and touch. The telescoping arm moves in and out smoothly and stays where you adjusted.
Anodised cups rotate individually to give you the most comfortable experience and to reduce the pressure.
The ear cup fabric is super soft and feels great on the ears.

If your AirPods Max seem a little low quality, or if the pieces are loose, you might have knock-off AirPods Max.
Check The Controls
The controls on genuine AirPods Max are really well implemented. There are only two buttons, both on the right earcup. Check these are in the right place, and also that they work.

The front button allows you to toggle between noise canceling and transparency mode.

The second button is a bigger version of the digital crown that's on the Apple Watch . You use that to control volume and click it to pause your music, answer and end calls, and double-click to advance tracks.
You'll notice I said nothing about a power button, and that's because the AirPods Max lack one. If you notice a power button on the AirPods Max, they're fake.
Check The Microphones
Genuine AirPods Max has a total of nine microphones. You will find one microphone at the top of each ear cup and two microphones located at the bottom of each ear cup, which counts to 6. And 3 built-in microphones for voice pickup and active noise cancellation. Fake AirPods Max may have differently arranged microphones, or no microphones at all.)
Check The LED Light
Genuine AirPods Max should have an LED light on the bottom of the right ear cup, which can be used to determine charge level when pressing the power button while the AirPods Max are charging. If the LED light is missing or its placed in an unexpected location, you've spotted fake AirPods Max.
Check The Color
It's also worth checking the AirPods Max colors. Apple sells AirPods Max in five colors: Space Gray, Silver, Sky Blue, Green, and Pink. If you come across AirPods Max in a different color, they are fake.

Check The Smart Case
Apple ships AirPods Max with a soft Smart Case that wraps around the ear cups. The case is designed to put the AirPods Max into an ultra low power state that preserves battery life, utilizing magnets. If the Smart Case seem a little low quality, the pieces are loose, or the magnet feel weak, you might have AirPods Max replica.

Check The Serial Number With Apple
The most foolproof way to tell if AirPods Max are fake is to go directly to the source: Apple. Apple has an online to check a product's warranty status. Just enter the AirPods Max' serial number and, if you find them there, they're the real deal. If you don't, you've spotted fake AirPods Max. Here's what to do:
Find your AirPods Max' serial number underneath the left ear cushion. You might need a magnifying glass to read it clearly. If you've already connected them to your iPhone, you can find the serial number by going to Settings > Bluetooth > tapping the i next to the AirPods Max name.

Once you have the AirPods' serial number, head to the Check Coverage website and enter it into the field at the top, then fill out the CAPTCHA and click Continue.

If the tool returns information for that serial number (especially a valid purchased date), the AirPods Max are real.
Try to Pair Them or Check Battery Life
Another reliable way to tell if AirPods Max are fake is by doing something only authentic AirPods Max can do.
When you try to pair AirPods Max to an iPhone or iPad, or open already-paired AirPods Max near those devices, a window pops up on the device's screen. That can only happen with genuine AirPods Max because that feature relies on the H1 chip, a communications chip Apple created for the AirPods Max. It's extremely unlikely fake AirPods Max could mimic that feature.
So, to spot fake AirPods Max using this trick, follow these steps:
Make sure the AirPods Max are charged and bluetooth is enabled on your iPhone.

Hold the AirPods Max next to an iPhone or iPad,. Open the AirPods Max smart case (while leaving the headphones in the Smart Case).

If the AirPods Max have already been set up with this device, an onscreen info box will pop up with the name and an image of the AirPods, and a percentage figure for the battery level. That means your AirPods Max are genuine.

If the AirPods Max haven't been set up with this device, wait for the connection screen to appear. If it does, your AirPods Max are the real thing.
If you follow these steps but don't see the on-screen prompt from steps 3 or 4 on your device's screen, we're sorry to tell you, but your AirPods Max are probably fake.

Check The Price
Another clue the AirPods Max are fake is that they cost less. The starting retail price for authentic AirPods Max is $424.99. If you're being offered more than a small discount, the AirPods Max might not be real.
Bonus tips to spot fake AirPods Max
Fake AirPods Max won't appear in the Find My app when you connect them to your device.
Once you've paired your AirPods Max with an iPhone or iPad, open the Bluetooth menu and tap the i icon next to their name. You should see a page full of information about them — if all you see are Device Type and Forget This Deviceoptions, they're fake.
Check the size. The official dimensions of the AirPods Max, as detailed on Apple website are, height 7.37" (187.3 mm), width 6.64" (168.6 mm), depth 3.28" (83.4 mm). This might seem like a simple detail for a counterfeiter to get right, but you'd be surprised: many fakes are thicker than the real thing, because it's so hard to match Apple's engineering capabilities.
If you've got scales, check the weight too. Genuine AirPods Max weigh 13.6 ounces (384.8 grams). AirPods Max replica may weigh more or less.
How to avoid being scammed
If you're ordering your AirPods online, you won't get your hands on them until they are delivered. However, you can check for a few things before placing the order to avoid being scammed. Read seller reviews, read user reviews on the listing, and avoid suspiciously good deals. It's also always better to buy from the Apple Online Store or reputed sellers from Amazon and other popular e-commerce websites.
Try to avoid paying in cash due to the lack of a paper trail and the inability to recover payment. Credit cards are better than debit, cash cards, or bank transfers in this regard too. Your bank can usually dispute a transaction to obtain a chargeback. Always check your specific bank's terms and conditions and you may have to send in a dispute form to initiate the process. PayPal also offers inclusive buyer protection when buying through them, specifically covering knock-off goods and used products.
Most digital means of payment offer some protection against fraudulent merchants.
We'd also recommend trying to obtain proof of purchase and a detailed item description from the seller to act as evidence, just in case.
I BOUGHT FAKE AirPods Max: WHAT DO I DO?
If you have purchased fake AirPods Max by mistake then you should attempt to return them from where you bought them for a full refund. Then you should report the counterfeit sale to the police, Apple and any relevant authorities as soon as possible.
Conclusion
With all of the above in mind, you're now well prepared and protected against ending up with fake AirPods Max. The chances of encountering them are slim, but it's always best to be prepared.