Counterfeit iPhones are big business for unscrupulous sellers. This guide will help you spot a fake iPhone SE 3 before you throw your money away.
For deceptive phone manufacturers, the "fake iPhone" market has become a highly profitable business. While many early iPhone counterfeits were of low quality, with time, some fake iPhones have become so effectively cloned that they are visually indistinguishable from the authentic iPhone.
These fake iPhones are now very precise replicas, taking into account the device's size, volume, power, and lock/mute button location, Apple logo, and other physical characteristics of an authentic iPhone.
Sadly, they can be found in what appear to be authentic web adverts or retail stores. They're out there, no matter where they appear, and those who buy them are being duped. At the same time, security interventions to prevent the fake iPhone business from the market have also failed. As an alternative, the greatest thing that can be done is to inform people in order to avoid them from falling victim to these fraudulent manufacturers.
Apple is best known for its high-end products, and the iPhone is the company's most valuable product. The iPhone's remarkable quality and simplicity of use are what make Apple's most successful product so attractive and pricey since it is an ideal product. However, as the iPhone's popularity grows, counterfeiters will have more opportunities to offer low-cost counterfeits. Fake iPhones and Apple accessories have improved to the point where they are sometimes difficult to detect.
Spend enough time on the internet and you're bound to come across a horror story or two of some unfortunate soul duped into spending hundreds of dollars on a counterfeit or fake iPhone. It may look like a brand new iPhone SE 2022 from the outside, but it's not even close on the inside, with a cheap camera, outdated processor, and other cheaper components instead of the real thing.
Buying a new iPhone from a reputable retailer is your safest bet, but that's not always possible. The growing market for second hand, refurbished, and cheaper import iPhones is a hotbed of potential shady products and knock-offs. If you want to avoid wasting your cash on a fake iPhone SE 2022, here's our easy guide to help check that your new phone is authentic.
Tips to spot a fake iPhone SE 3
Here is a list of some of the most important things to consider when purchasing genuine iPhone SE 3 or Apple accessories.
1. Look at the build
Checking the physical appearance of an iPhone SE 3 is one of the most common ways to determine if it is authentic or bogus. When it comes to the design and build of an iPhone SE 3, expect nothing but perfection. On the other hand, the build on a cloned iPhone SE 3 frequently appears to be less expensive. So, if the iPhone SE 3 build is shoddy, it's a fake.
When you hold an iPhone SE 3, you will feel a sense of perfection in your hand. The iPhone SE 3 body is typically made of metal and glass. Look for details like the placement of the buttons and branding. Pay attention to aspects that counterfeiters typically miss, such as the iPhone SE 3 color. So before purchasing make sure you check for the official colors for the iPhone SE 3.
Apple offers the iPhone SE 3 in a variety of colors, and duplicating the precise color scheme is difficult.
The original iPhone SE 2022 comes in three colors:
Midnight (black)
Starlight (white)
Product RED (red)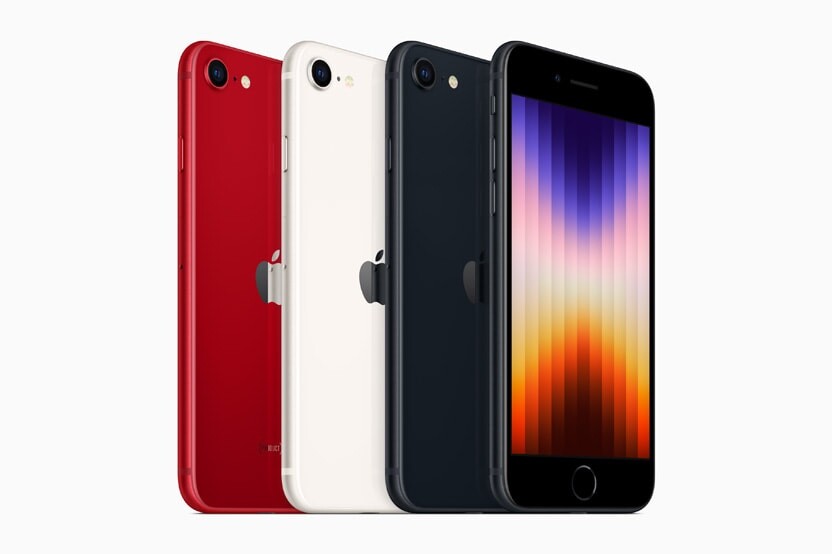 Each model comes with a silver Apple logo in the center, in case you forget what brand you're using. The red model also comes with a (PRODUCT) Red badge on the lower middle of the phone, to indicate the phone's charitable links.
It's simple to spot a fake iPhone SE 2022 if you do your research before meeting with a vendor.
2. Look for a memory card slot and extra buttons
There is no memory card slot on iPhone SE 3. If the device has a memory card slot then it is 100% a counterfeit.
3. Look for Siri
Request that the dealer (i.e if you are buying a second-hand) demonstrate if Siri is functional on the iPhone SE 3. Siri is a voice assistant that is exclusive to Apple products.
4. Check the IMEI or serial number
An IMEI or serial number should be present on all genuine iPhones. That way, you'll know if you're getting a new or refurbished iPhone. Tap "General" and then "About" under Settings. Scroll down until the IMEI number appears.
If the iPhone SE 3 doesn't have an IEMI or serial number, or if there isn't one at all, it's most likely a fake. OR if it has a serial number then go to https://checkcoverage.apple.com and input your iPhone serial number to determine if your device is genuine. When you enter the iPhone's serial number into Apple's warranty status website, the model, warranty duration, support status, and other details about the phone should appear. Your iPhone SE 2022 is a clone if you see a notification that states "We're sorry, but this serial number is not valid."
5. The Apple logo
This is one of the most dependable obvious signs. Simply flip the iPhone SE 3 over and look at the branding on the back once it has been unpacked. Although it may appear to be indistinguishable from the authentic iPhone, in most instances there are generally minor flaws that differentiate a fake. A slightly recessed branding and/or a mirror finish may be found on several counterfeit iPhone SE 3 models.
6. Check the camera app
Now we'll look at how the iPhone camera app looks. Counterfeits seldom include a top-of-the-line camera, so you'll notice a significant difference in quality. Do you know that iPhone SE 3 has one of the best cameras? Well from the start you'll notice how poor the camera quality of a fake iPhone SE 2022 is. Unless you've been living under a rock, there's no way you won't notice the difference in quality when utilizing the rear-facing camera of an iPhone SE 2022!
7. Apple store
The most significant distinction between authentic and fake iPhone SE 2022 is revealed here. Because they can not imitate the skin of the User experience of an iPhone, most fake iPhone SE 2022 run on Android. There is no iTunes or Apple store for Android smartphones. If you click one of them, you'll be sent to another app or the Google Play Store. If these applications don't open the expected Apple store, they're definitely fake.
8. The brightness of the display
In most fake iPhone SE 3, the first thing you'll notice is that the screen isn't as bright as it should be. In fact, even at full brightness, you will find it difficult to read the text under bright sunshine. Meanwhile, authentic iPhone SE 3 offer screen brightness that is enough to read text with ease even under bright sunshine. Also, the display of a fake iPhone SE 2022 is not vivid and appears washed out.
9. Charging Port
Check the charging port for a plastic border; if you see one, the iPhone SE 3 is most likely a fake.
10. Screws with a Penta Lobe
This is also another aspect that is used to identify fake iPhone SE 2022. The authentic iPhone SE 2022 features Penta lobe screws, however, the fake iPhone SE 3 has standard cross screws.
11. Pay a visit to an Apple store
If you're thinking about purchasing an iPhone SE 2022, head to your local Apple shop first. There, you can see how the iPhone SE 2022 looks and feels. Closely observe the build and figure out the price. If someone is offering you a secondhand iPhone SE 3 for a very low price, you should be cautious. Another option to verify the iPhone SE 3 authenticity is to go to Apple's official website. Make a list of the specifications and key features that might influence your decision to buy an iPhone SE3.
12. Take note on the pricing
Another red flag is that fake iPhone SE 2022 are often significantly less expensive than authentic ones but this is not always the case, as some merchants try to offer these phones for just a few dollars less than the original price, preying on people's ignorance. If an iPhone SE 3 is offered for significantly less than the standard iPhone price from the official Apple website or store, think twice about purchasing it.
What to look for when spotting fake iPhone SE 3 charger
The following is what a genuine iPhone power adapter will read: Apple designed it in California, then it was either "Assembled in China" or "Assembled in Vietnam," and then it should have a 12-digit serial number. The initials UL, a worldwide safety and certification corporation located in Northbrook, Illinois, are stamped on most adapters, which are generally white in color. Also, please remember that the power adapters/chargers that Apple offers come in a beautiful box.
Conclusion
These are some of the ways to spot a fake iPhone SE 2022. Therefore, if you want to buy an iPhone SE 3 from a secondhand market, a classified ad, or another non-Apple vendor, you should use this guide to figure out if the phone you're purchasing is a genuine iPhone or not.