Apple AirPods 3 were released in 2021, and it wasn't long before scammers flooded the market with cheap knockoffs. With a hefty price tag of $179 and talk of being Apple's premium Samsung Buds contender, it's no wonder fake AirPods 3 became a hot counterfeit item so quickly.
Now, it's harder than ever to know the difference. Without a bit of know-how and background info, it's easy to get duped into a scam. We're here to help make sure that doesn't happen.
See also: How to Check if Your iPhone 13 is Fake or Original
Below, we'll walk you through everything you need to know about fake AirPods 3 so that you can avoid scams and find good deals on authentic earbuds.
What Are Fake AirPods 3?
Fake AirPods 3 are imitation earbuds built to look like Apples's AirPods 3, but they lack the sophisticated hardware and software to warrant the high price tag. Scammers use cheap materials that lack iOS compatibility and often break down much faster than the authentic AirPods.
Apple doesn't create fake AirPods 3, so you'll get no customer support if (more likely when) your AirPods stop working. You'll be on your own.
Unfortunately, there's not one tell-tale sign of a fake pair of Apple AirPods 3. Expert scammers have nailed the design, and some will even sell the AirPods 3 at a premium to fend off any initial buyer suspicion. You'll need to inspect the nitty-gritty details to find the counterfeit giveaways.
How to Identify Fake AirPods 3
1. Check the Box
Apple is meticulous about its packaging, so if you still have the box your AirPods 3 came in, check here first. The box may look legitimate at first glance, but there are a few areas to check.
The box itself should fit quite snug. If the inner box and its lid come apart very easily or don't line up correctly, this is a sign that something may be amiss.
The lettering used for the AirPods name and the Apple logo on the box are another area to check. If these are reflective and not flat gray, for example, you may be dealing with a counterfeit.
2. Check Your Case
The most obvious thing to check on your charging case is the port at the bottom. On official Apple AirPods 3, this will be a Lightning port, but fake models will sometimes have a USB-C port at the bottom instead.
You'll also want to make sure that the charging case has the status LED on the front and snaps shut magnetically. If your case doesn't have either of these features, that's a bad sign.
3. Closely Inspect Your AirPods
For some reason, the very ends of the AirPods seem to be difficult for counterfeit manufacturers to match. On the original AirPods, the bottom should be an oval-shaped vent. If this is circular, it's likely counterfeit.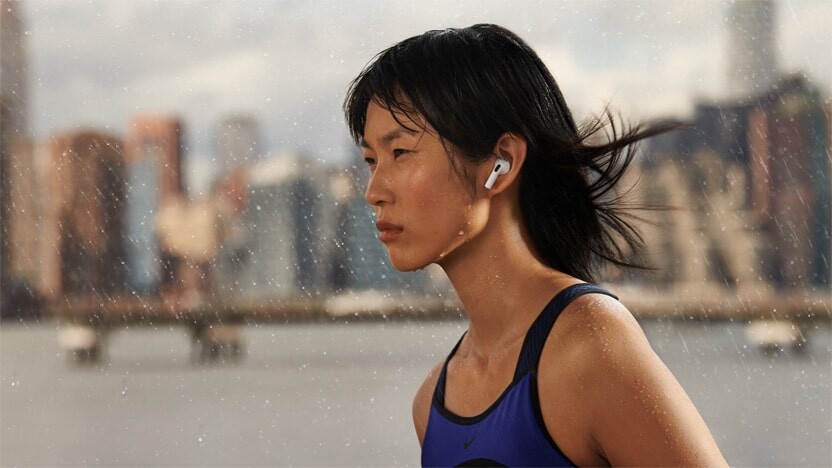 4. Check the Serial Number
The most definitive method of making sure your AirPods 3 are the genuine item is checking the serial number with Apple. If the company has never heard of the serial number, you've probably got a fake.
To check, open the lid of your AirPods case and look on the underside of the lid. It's on the section that is closest to the charging status LED when the case is closed.
You can also check on the underside of the right earbud, even though the type is smaller, and it's more difficult to see here.
Once you've found your number, head to https://checkcoverage.apple.com and enter the serial number.
What to Do If You Purchase Fake AirPods 3?
Mistakes happen. If you accidentally purchased fake AirPods 3, not all is lost. Depending on when you bought the earbuds and where you bought them from, there's still a lot you can do to recoup your money and right the wrong. The processes differ depending on the platform you purchased the product:
Wish: Contact Wish's customer service to take advantage of their 30-day return policy. Check their list of exceptions to make sure your purchase qualifies. Wish is notorious for selling fake products, so always be cautious buying on the platform.
Craigslist: Craigslist won't be able to protect you from scammers and counterfeits. You'll need to do your due diligence to avoid getting scammed. However, if you believe you've been scammed, Craigslist still appreciates you reporting the fraud so that they can protect future buyers.
Facebook Marketplace: Facebook Marketplace doesn't provide protections for sellers and buyers.
Walmart Marketplace: Request a refund via the Walmart Marketplace Promise to recover your funds.
Amazon: Contact Amazon customer support to file an A-to-Z Guarantee to start your refund process.
eBay: Contact eBay to ask for their money-back guarantee.
Contact the FBI's digital division to submit a fraud report. They'll provide additional advice, and this information will hopefully help them catch the bad guys.
Where Are Fake Airpods 3 Sold?
Scammers sell fake AirPods 3 all across the internet and local listings. So unless you're buying from Apple, Best Buy, or another credible tech store, you'll have to deal with fake products to some extent.
Here are the most common places scammers are selling fake Apple AirPods 3:
Craigslist
Amazon
Wish
eBay
Facebook Marketplace
Walmart
Alibaba
Scammers operate on other e-commerce platforms, too, but these are often the most prevalent. And that's because these sites sometimes have mind-blowingly low legitimate discounts on high-quality tech items.
Where to Buy original Apple AirPods 3
You can find authentic Airpods 3 at various in-store and online retailers. Here's a shortlist of the most reliable places you can buy real AirPods 3:
Apple
Best Buy
Walmart
Target
Verizon
Microsoft
You can find real pairs of AirPods 3 on popular e-commerce sites like eBay and Amazon, but you'll always run the slightest risk of getting scammed. That's not the case with the authentic websites listed above.